Thank you for considering our products! We wanted to remind you of an amazing offer we have available to our valued customers. As a token of our appreciation, we are extending a 5% discount on your purchase! All you need to do is enter the code "BSEDESIGN" during the checkout process if the product allows it. We understand that every penny counts, which is why we want to provide you with the best prices for our top-quality products. Take advantage of this discount while it lasts, and be sure to browse our selection for more great deals. Our team is always here to help if you have any questions or concerns. Thank you for choosing us as your go-to destination for all your product needs!
At BSEDESIGN, we want to ensure that our customers always receive the best prices for our high-quality products. That's why we're excited to offer a permanent 5% discount on all purchases – just our way of saying thank you for entrusting us with your design needs.
But the good news doesn't stop there. We also have exclusive sales of up to 50% off, from time to time, which you can stay updated about by following our fanpage. Exciting, right?
And for even bigger savings, we offer individual price reductions when you purchase multiple products. That means you can get exactly what you need for your project at the best possible price. So don't hesitate, start shopping with BSEDESIGN today and take advantage of our amazing offers.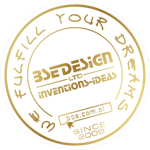 BseDesign Inventions-Ideas LTD
Since 2009 © bse.com.pl. All Rights Reserved.