The company was founded in 2009 year.

We deal with making complex things for individual orders.
3D design, 3D printing SLA/PETG/ASA, PCB design, embroidery design, graphic design, laser cutting and engraving, spindle milling and engraving, stickers, stickers gel, key rings aluminium, key rings resin, plywood cutting and engraving, aluminum cutting and engraving, resin molds, designs and implementation of dials/speedometers replacements for almost all car models, etc.
Tell me what you want done, and after a consultation we will try to implement your project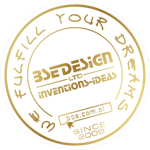 BseDesign Inventions-Ideas LTD
Since 2009 © bse.com.pl. All Rights Reserved.